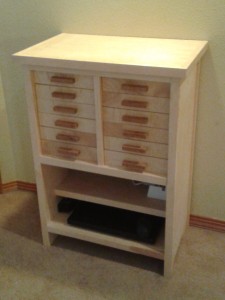 With Christmas came the discovery that we have a lot of portable electronic devices including (but not limited to):
3 cell phones
4 Kindle Fire tablets (assorted models)
1 Nook e-reader
2 3DS XL gaming systems
3 Fitbit pedometers
4 laptop computers
1 TI-84 Plus C Silver Edition Graphing Calculator
Each device came with a means by which it can be connected to a wall outlet so that the battery can be charged.  This led to having devices perched in random places wherever a free outlet could be found and of course nobody could find their device when it was desired and the correct type cord could never be located when it was needed most direly.
So I built a charging station with to provide a home for various gadgets.  There are several shallow drawers that can each hold an electronic device and a shelf on the bottom which can hold a laptop.
The plywood body and solid trim are birch and the drawer handles were cut from some scrap oak that was leftover from another project. Because I wanted this to be a fast and cheap project, purchasing fancy drawer hardware wasn't really an option so I sanded some poplar and found it to make serviceable drawer guides.
The middle portion of the piece is conveniently at the same height as a wall outlet and there is a smaller shelf there on which fit a couple multi-port USB charging devices.  From there cords are routed to all the drawers above and the laptop shelf below.  Most of the cords end with USB Micro-B plugs since that is what is used by most of the devices, but also we have a USB Mini-B for the calculator, the proprietary chargers for the 3DS systems, an extra power supply for the laptop, and the funky Fitbit Flex charging cable.
I meant to stain the wood, but it got put into use before I had the opportunity. Devices still go missing occasionally, but much less frequently than before. There are no more battles over cables and so devices are more likely to be charged. Once again we have free outlets in our home.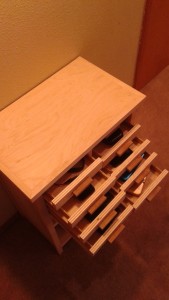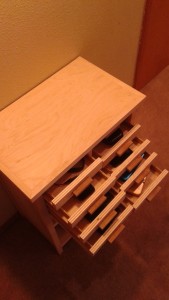 A less obvious benefit is the ease with which my wife or I can assess which devices are in use. This is useful because there are rules which the children are expected to follow. We haven't had any major problems with kids abusing screen privileges. When it's bedtime and devices are to be put away until the next day, it is simple the check that everything is where it should be.
I expect that we shall continue to have more portable electronic devices appear in our home and need charging.  Building the charging station was a quick, cheap, and fun way to address our current needs and we will evolve and adapt with what the future brings.